Regular price
$1,000,000.00
Sale price
$1,200.00
---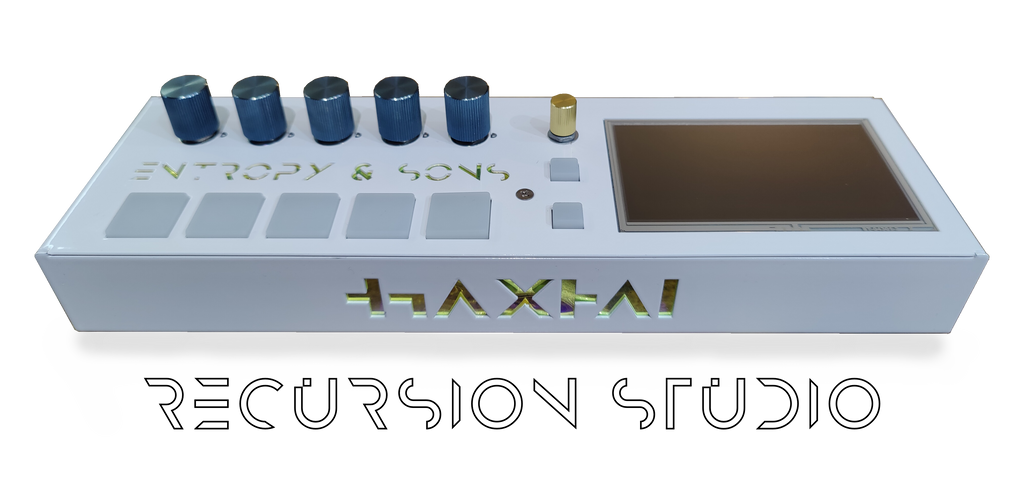 Get ready for something unseen yet in your time stream. We've got a new video synthesizer fresh from the ultra-world and we're the only ones with this technology.
This is of course the Entropy & Sons' Recursion Studio, the time streams's premier almost holomorphic kaleidoscoping fractalizer, a device that makes the most amazing mathematically-generated visuals your brain has ever perceived at HD resolutions and framerates, outputting 1080p/30fps of recursion straight into your brain holes.
Ever wanted to play with visuals but not an expert VJ? Just plug it in and watch it go. Or maybe you are a pro and want the biggest and most algebraic visuals on the block, synced and automated with standard music production equipment? We've got you covered there too.
In the future these devices have become so popular, they can be found in every home, car, schoolbot's backpack, and most gamma ray shelters. They've outsold smartphones, televisions, holopads, and Covid-14,783 vaccines combined. The surgeon general's mother recommends that you purchase eight of them.
W

H

A

T

I

S

I

T

?

?
Its a vast collection of protons, neutrons, and electrons, meticulously arranged in order to synthesize intensely beautiful live video along with any HDMI-capable display. And when combined with sound, MIDI automation or CV signals it will breathe seriously hot plasma down a video cable. And you can feed live video and images into the engine.
The Recursion Studio has 5 clickable encoders + 1 encoder with detents, a large onboard touchscreen for control, customization, and library management, 5 drum-style pads for live performance, and a wide range of I/O. Everything is customizable - patterns and presets can be saved which include mappings for all external and onboard controls. All content and presets are shareable online with others.
I

W

A

N

T

T

O

P

L

U

G

I

T

I

N
Equally at home as part of a live performance, DJ set, studio setup or even just parties. Our stand-alone form factor helps us achieve our goal of making professional quality visuals not only accessible to everyone but realistic and reliable to use in any creative setting.
The built in audio reactivity means you get a ton of functionality from the minute you plug it in. Taking it further with dedicated mappings and MIDI/CV signals allows for intense creativity - but don't be fooled - if you're the kind of user that likes to dive deep, you'll reap the rewards of an incredible amount of customization. Last time we counted there were 100+ parameters available in the primary instrument.
The Recursion Studio also has 4 USB ports which can be used for all kinds of expansion - plug in a USB Class-Compliant camera / video capture device to the available USB ports and mix your own video source right into the system. To make this even easier, we'll include an USB-HDMI adapter. Of course, these ports can host USB MIDI controllers as well. An ethernet port makes available super-simple standalone preset & source image sharing, as well as other methods of expansion.
B

U

T

W

A

I

T

,

T

H

E

R

E

'

S

M

O

R

E

!
The Entropy & Sons Recursion Studio - the time stream's premier almost holomorphic kaleidoscoping fractalizer - is actually a video synthesizer platform. Similar to modern digital audio synthesizers, the Recursion Studio has been designed from the ground up to host many different kinds of tempo-synced and performance-compatible visual instruments (i.e. like a modern audio synthesizer might have Virtual Analog, PCM, FM, granular synthesis..).
This means that not only will we be releasing expansion packs to the primary instruments you have seen in our demos so far, in the form of content, algorithms, and presets, we will also be adding completely new instruments. We've got a particularly lovely quasi-crystal simulator on the way which will be included out of the box, and several others which we'll be announcing soon.
We've painstakingly compiled vast libraries of unseen images, novel video processing algorithms, cream-of-the-crop surjective complex maps and beamed them directly into the center of the sun. We let them simmer in the nuclear inferno until they we're nice & crispy, and distilled the results into a fine Laurant residue, which we're bringing to you here. We want you to combine your creations with ours and share something unique with the world. Or the anti-world. We don't judge.
F

R

O

N

T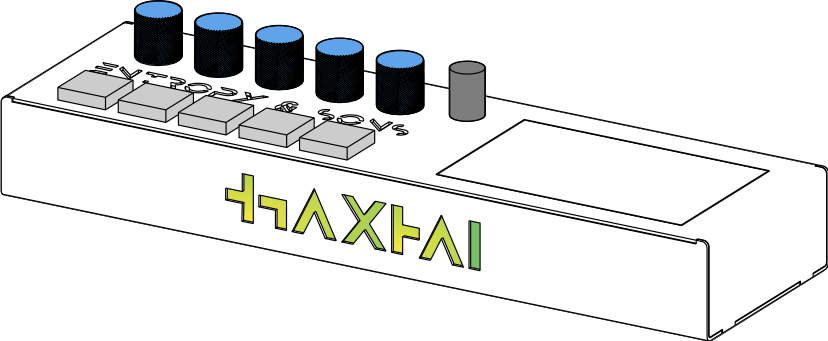 R

E

A

R

&

L

E

F

T

I

/

O

S

P

E

C

I

F

I

C

A

T

I

O

N

S
Power

USB-C PD Power Adapter (5V 20A) (Included)

Inputs

Video via USB - Onboard USB A ports are capable of

HDMI via adapter (included)
Most USB Webcams & video capture devices (USB Video-Class Devices)

If you can plug it into your computer and get live input into a program like Zoom, OBS etc. without installing a custom driver or software from the camera / capture device manufacturer, it will probably work

MIDI

USB ports can directly host USB MIDI Controllers
5-pin DIN ports can take input from any MIDI device, and also output

CV

8 Eurorack-style CV Inputs (0 - 5V)

Audio

Outputs

HDMI @ 1080p / 30fps
DMX (via USB controllers) *

Networking

Preset & Content Sharing, Easy Updates

Ethernet (RJ45)
USB WiFi adapters *

Contents

Instruments, Image and Preset Library Information coming soon..
* Features like DMX output(to synchronize RGB lighting and other fixtures with the video system), and USB WiFi adapters for network connectivity are coming soon. Since our system actually vibrates at negative frequencies, we've incured debts which we need to pay off at quite unreasonable relativistic exchange rates.
NOTE: We are still in the process of establishing stable time-channels. Once open, we expect no trouble with delivery and fulfillment. Given their popularity in the future, you now have an opportunity to place a pre-order and be at the front of the line for when these do arrive. Shipping is scheduled to begin in February 2024, local time in your universe. Don't forget to join our mailing list to be kept up to date, and to enter our contest for a chance to win one of the first devices to come through the portal.
* Entropy & Sons is liable for neither melting, oozing, nor general malfunction of nearby brains and/or faces caused by the use of this product. Also, your TV might just, like, explode. However we will be selling fashionable protective brainwear in all shapes and size, as well as replacement brains and/or faces. You should probably buy a few just to be safe. If you do have any difficulties or general maladies, before contacting us please first tape your ears to a subwoofer and crank up to eleventy. If you are still having trouble, please contact us at: support@entropyandsons.com